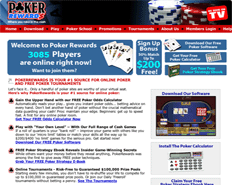 Visit Poker Rewards

Relative to other poker sites on the Internet, PokerRewards is one that would benefit beginner poker players and those looking to improve their skills. The site has standard bonus incentives and a loyalty program not necessarily unique to the PokerRewards, which is part of the Prima Poker network. Still, it provides a safe, secure gaming environment for casual poker playing.



PokerRewards Microgaming software is well known in the gaming industry. This provides for steady gaming, as well as a fair gaming structure. Poker Rewards is also partnered with Casino Rewards, which provides loyalty bonuses. As soon as you start playing on PokerRewards, you'll earn VIP points. With the loyalty program, you can redeem these points for real cash. PokerRewards also offers little extras, such as an odds calculator and a poker strategy e-book.

PokerRewards hosts its own Poker School on its site, where you can learn game rules and strategies of the most popular poker games on the net. If you're looking to play big, check out other sites first before committing to PokerRewards. However, if you're just looking for a great place to get started and improve your poker skill, this is the site to visit.